SNOMED CT E-Learning Course Guide
This is a general guide for SNOMED CT E-Learning Courses. 
6. Other Resources
6.6. Videos
Videos are another e-Learning resource which may be offered as part of a formal course. Within the e-Learning platform, videos are denoted using the blue page icon, as shown in the screenshot below.

When you click on a video in the e-Learning platform, you will be taken to a metadata page which contains information and action buttons associated with the video. An example of this metadata page is shown in the screenshot below.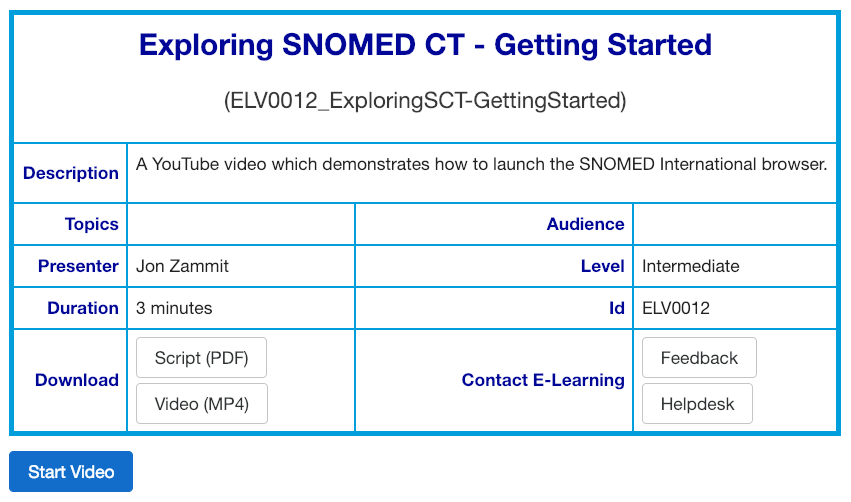 To watch a video, simply click on the blue "Start Video" button. Note that this will open another browser window in which the video can be launched using the YouTube platform.
Although e-Learning videos are hosted on YouTube, we also provide a downloadable version in an .mp4 container. Click on the white "Video (MP4)" button to initiate a download of the file, which can be saved on your local hard disk.
Most e-Learning videos offer subtitles which provide a transcription of the video script. To toggle subtitles on/off during video playback, simply click on the subtitles / closed caption button in the bottom-right corner of the YouTube playback window. Note that this is the leftmost button (underlined in red) shown in the screenshot below. The script can also be downloaded by clicking on the white "Script (PDF)" button.

Once the video has finished, you can simply close the additional tab in your browser and return to the e-Learning course/module from which the video was launched.
Also note that YouTube may automatically display videos at a lower resolution based on your bandwidth.
You can increase the quality of the video by clicking on the gear icon and then selecting the appropriate resolution.